Internal Optimization Process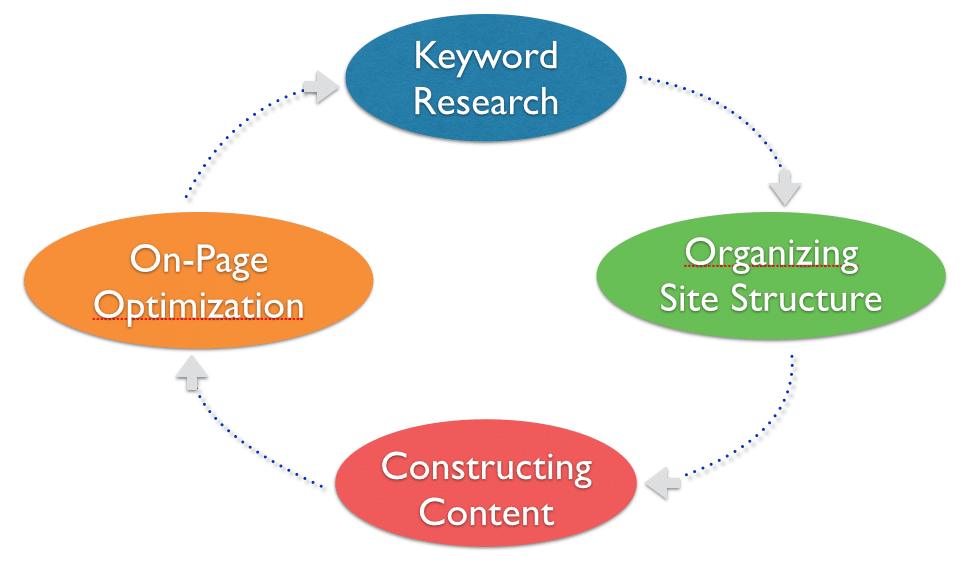 There are 4 main steps when it comes to internal SEO – Keyword Research, Organizing Site Structure, Constructing Content, and On-Page Optimization. Let's go through each step one by one.
Keyword Research: Competitive Market Research
Long-tail keywords
When starting out, you want to look out for as many long-tail keywords as you can. Long-tail keywords (more words) are not as difficult to rank highly for as generic keywords (fewer words). Long-tail keywords are also more specific to a user search query and are more likely to result in a conversion.
Start with a generic theme i.e. "Website Design", if you are a web designer, then expand your list of keywords from there i.e. "Ecommerce Web Design", "Affordable Web Design", etc…
Use the Google Keyword Planner to conduct your SEO keyword research.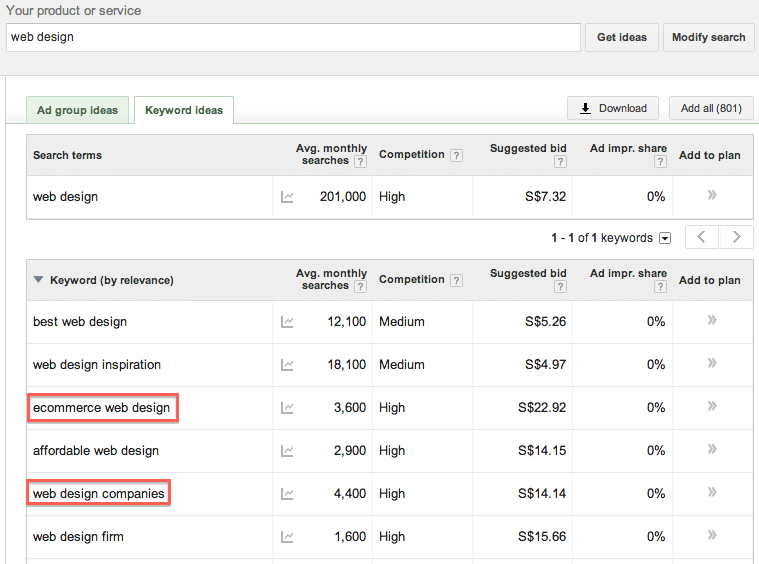 Researching for new keywords
If you're building a brand new site, keyword research should be the first thing you do before filling up your site with content. If you're already running a site, it is also good practice to constantly expand your list of target keywords.
Keyword research can help you discover what consumers are actually searching for. When you know what your consumers are looking or asking for, you can better design your content to answer their queries by speaking to them in their language. For example if you know people are searching for the exact keyphrase "How do you make a website", you can create an article titled "How to Make/Create a Your Own Website".
You can develop a variety of content ideas just by going through your list of keywords.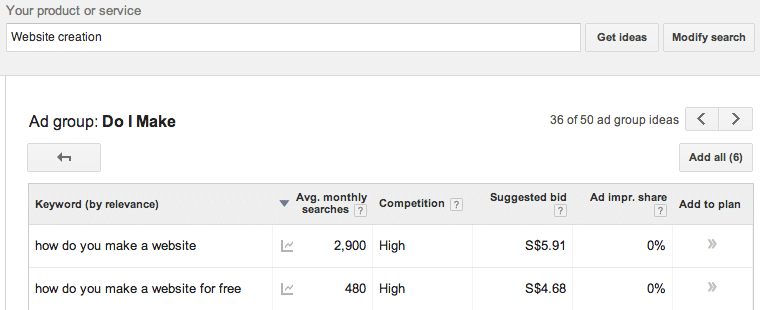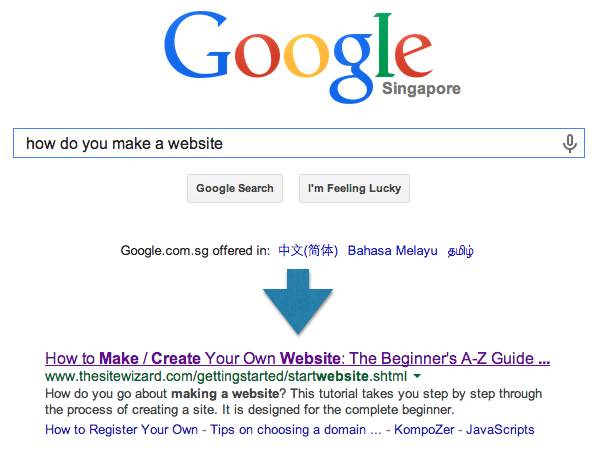 You want to build a long list of keywords before you start constructing and organizing your articles.
Below is an example of a list of keywords generated by a web design firm: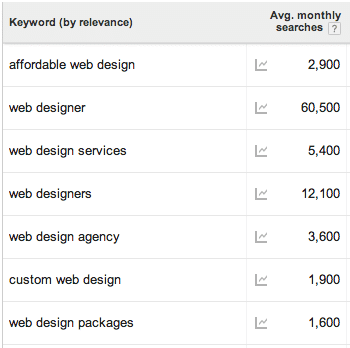 Referencing the above list of keywords, a web design firm will have a good idea of which keywords to optimize for and how to structure their website (SEO Siloing). i.e.
Web design packages
=> custom web design
=> affordable web design
Analyzing existing keywords that your site is already ranking for
If your site is already up and running for some time, you may want to sign up for Google Analytics (if you haven't already) and check which keywords your current visitors have been using to get to your site. These keywords in your analytics report are likely the keywords that you are already ranking well for, so you want to put more focus on them first.
Once you've identified these keywords, the next step is to focus your internal optimization efforts on these keywords in the next 3 steps – Organizing site structure, constructing content, and on-page optimization.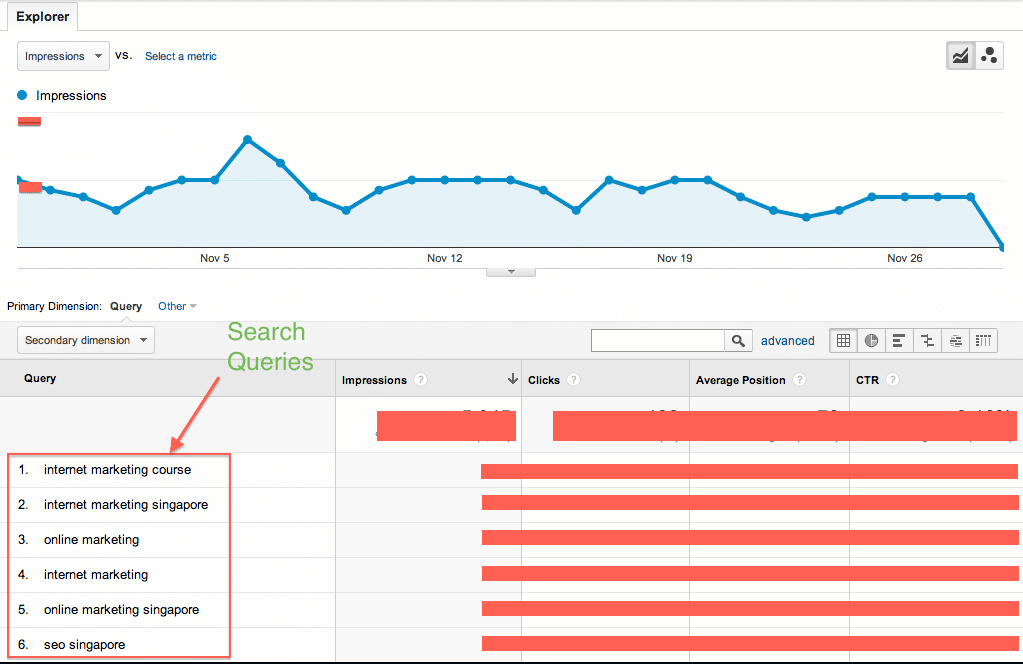 ---
Organizing Site Structure: SEO Siloing (Website Theming)
Remember the shopping mall example? Let's say you love electronic products and your focus is on building the largest electronics shopping centre in town. If your shopping mall has a specific theme i.e. Electronics Centre and all retail shops in your shopping mall are dealing with electronic goods and categorized into different electronic themes at different levels, as opposed to a generic theme i.e. Downtown Shopping Mall with only a few electronic retail shops, chances are your Electronic Centre will stand out in consumers' minds whenever they think of buying any electronic products.
Similarly, Google and other search engines like Yahoo! & Bing give preference to theme-specific sites when deciding which results to show for a relevant user search query. But if you've already built a multi-themed site and want to rank for themed-specific search terms, it's not the end of the world.
Introducing SEO Siloing/Website Theming/Content Hubs
As mentioned, Google, Yahoo! & Bing favour sites that are theme-specific. Sites with clear structures, relevant high-quality content, and written in clean and neat code (no flash, minimal javascript, use HTML for most of their site) also tend to do very well in the search engines.
Therefore it is safe to assume that you do not need to have only one topic on any one site in order to rank well for a theme-specific keyword.
Another scenario would be a box of macarons.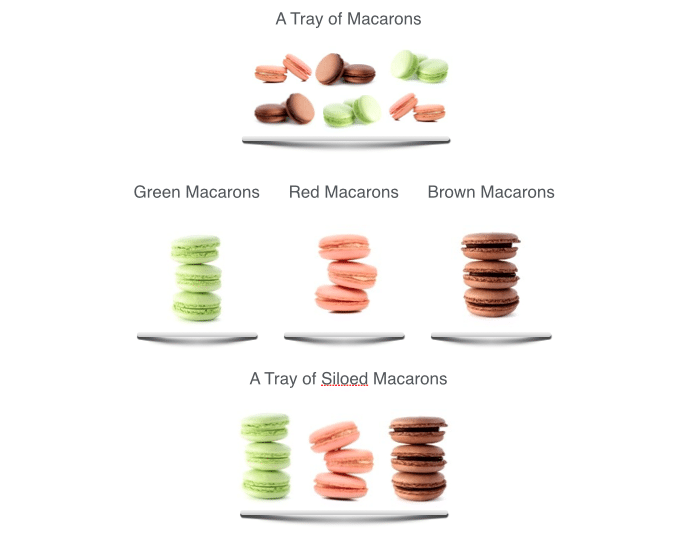 1st Scenario: A box of Green Macarons, Brown Macarons, and Red Macarons mixed together.
In this scenario, search engines will likely classify this site as "A box of Macarons".
2nd Scenario: A box of Green Macarons, A box of Brown Macarons, A box of Red Macarons all separated into different boxes.
In the second scenario, search engines will likely classify these 3 sites as… A box of Green Macarons, A box of Brown Macarons, A box of Red Macarons.
3rd Scenario: A box of Green Macarons, Brown Macarons, and Red Macarons organized into separate sections.
In the third scenario, search engines can clearly distinguish between the 3 different themes of macarons and index them according to their specific themes.
So what is a silo in terms of SEO?
A silo is a group of theme-specific subjects or topics in a website.
What is SEO siloing and why is it important in search engine optimization?
SEO siloing is the process of organizing different groups of content topics into specific categories. Much like a bookstore organizing different genres of books into different sections.
In terms of SEO, this organizational structure is very important in order for the search engines to understand the theme and intention of your website and rank your site accordingly.
There are two methods of SEO siloing. Physical siloing and Virtual siloing.
Physical Siloing
Physical siloing is organizing similar-topic content into similar categories or directories. Much like organizing your computer files into different folders.
Virtual Siloing
Virtual siloing on the other hand, is utilizing internal links to relate subject-specific content to one another. i.e. linking from one blogpost to another, whereby both blogposts exist in different directories or categories.
Diagram of a Silo-ed Site Structure: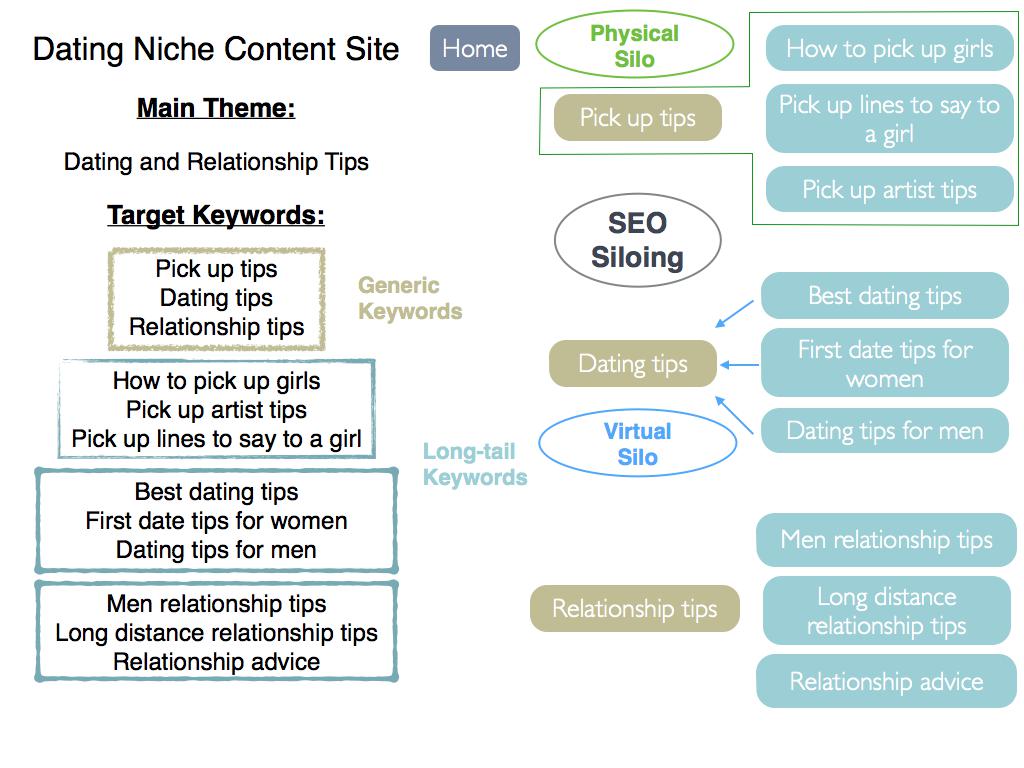 Above example: How a dating niche content site organizes its site structure.
Sitemaps
You also want to create a HTML or XML sitemap and submit it to the search engines. It's recommended to include a HTML sitemap for your visitors to refer to and an XML sitemap to submit to the search engines.
You can create your sitemap using free sitemap generator tools like http://www.xml-sitemaps.com/
---
Constructing Content: Creating Your Landing Pages
What are landing pages?
Landing pages are the pages that your visitors directly land onto when they click on a search result. It is important that your landing pages capture your visitor's attention and lead them to the inner pages of your site.
If your landing page doesn't answer the search query or isn't compelling enough and majority of visitors landing on your landing page click the "back" button and go back to the search results, you'd likely see your rankings dipping over time.
There are three steps you should follow in order when constructing your landing pages:
1) Plan your article using your researched keywords.
2) Write your article, keeping your keywords in mind.
3) Insert your keywords where appropriate. In the title tag, content body, image alt tags, and subheadings.
---
On-Page Optimization: On-Page SEO Factors
Once you've completed steps 1 to 3, you're ready for step 4 of the internal SEO process.