Furniture Business, also called woodwork or Woodworking Business involves making items from wood. It includes making various furniture, carpentry, carving, and wood-turning. Traditionally, the states contributing significantly to the Indian furniture business industry are Gujarat, Kashmir, Punjab, Uttar Pradesh, and Kerala. It is one of the most profitable manufacturing business ideas.
Brief Introduction on Indian Wood Working Market Trends
The most important types of woods used in the Indian woodworking industry are Walnut, Sandalwood, Teak, Sheesham, Deodar, Ebony, Redwood, Rosewood, Cedar, Sal, and many other types.
Since the Indian terrain has been truly blessed with a wealth of green forests covering vast areas of land, and with all kinds of forests found in India be it the tropical forest or the coniferous forests or the deciduous or the evergreen forests help the woodworking industry get steady flow of raw materials and thrive and grow accordingly.
Main Reasons for the Growth in Demand of Furniture Business Industries
Some of the critical reasons for the growing demand of the woodworking industry in India are:-
All sectors that are potential customers of the woodworking industry are growing at a tremendous pace, whether it is hospitality, tourism, retail, hospitals, and the real estate sector.
With 'Made in India' campaign even the Government supports all indigenous and traditional forms of furniture and other woodwork products for sale in India and abroad.
FDI friendly investment policies and schemes also have attracted lots of foreign investment in the woodworking industry
Scope of Woodworking Industry in India
The Indian woodworking industry is one of the fastest-growing sectors contributing to the growth of India's economy. India has about 1,00,000 registered existing woodworking units and above 2,00,000 artisans working in these manufacturing units.
In the past few years, more than 3000 furniture business units in the organized sector have been developed in India. And the numbers are increasing every year.
As per a study conducted by the World Bank, India's organized furniture industry will keep growing at 20% per annum until 2020. It was forecasted that the online home décor market would grow at a CAGR of 50.42% in revenue over the period 2015-20, whereas the Luxury Furniture Market would grow at 4.1% CAGR in the same period. India ranks at 14th position in the world furniture market.
The woodworking industry is easy to start and does not require high investments. The woodworking business owner needs to set up a manufacturing unit, buy tools and machinery, and employ necessary skilled staff to make the woodworking products. Also required are few licenses and registrations depending on the number of employees hired at the manufacturing unit, the size of the business, and the type of business.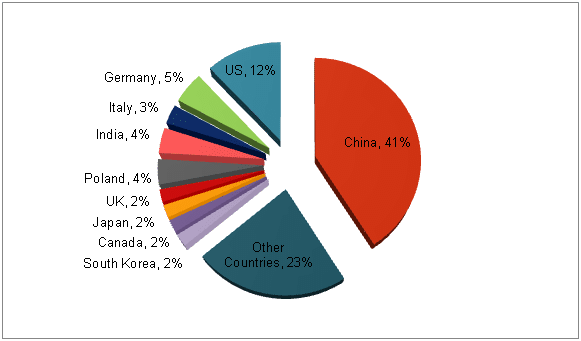 Manufacturing Process Of Woodworking Business
1. Product Planning
Product planning according to the quality specification is the first stage of manufacturing process. Determining manufacturing method, schedule and calculating the cost of the product are the main aspect of this step.
2. Resources
Selecting and obtaining the right tool and machinery is the next step. You also need to procure raw material such as wood and other consumable accessories. For a small scale woodworking setup, small tools are enough to serve the manufacturing purpose. But for a full-scale commercial factory setup or for an import oriented unit setup, procuring and installing technically upgraded machinery is important.
3. Product Development
When all the preparations are complete, commercial production begins. Even at this stage, you can perform modifications and improvements in the manufacturing line.
4. Inspection & Shipment
Manually, it needs close inspection to make sure there are no defects or flaws. Only those goods that pass the inspection deliver to the customer. Additionally, you must pack the items carefully to prevent contamination or damage.
---
Most Profitable Low-Cost Woodworking business Ideas
Plywood Manufacturing 
Plywood is a popular interior material for housing, ships, vehicles, and furniture. It is an economical, factory-produced sheet of wood with precise dimensions. Additionally, it does not warp or crack with changes in atmospheric moisture. Ply is an engineered wood product. It comes from three or more 'plies' or thin sheets of wood. These are glued together to form a thicker, flat sheet. Plywood has the structural strength of the wood it is made from. Plywood manufacturing is a profitable venture for new entrepreneurs. 
---
Wooden Furniture Making
Wooden furniture making one of the earliest age industry in India and still is considerably profitable. Ethnic and modern, both two types of furniture are in demand. Bed, sofa set, cupboard, almirah, dressing unit, sitting arrangements, reading table, round table are some of the popular wooden furniture items.
---
Wooden Interior
Wooden interior is decorating interior part of a room with wood and wood supplementary products. Basically, wooden flooring, wall, ceiling and other interior separation made of wood are very popular. In this segment, your woodworking unit can support both domestic and corporate customers.
---
Wooden Pencil Manufacturing
Wooden pencil or lead pencil is an essential item for students and artists. Generally, HB and 2B pencils have popularity in the Indian market. Even in the recent era of computers, printers, tablets, cell phones and a whole host of other writing and drawing instruments, pencil industry is growing. 
---
Wooden Utility Product Making
You can initiate a small scale unit of wooden utility product making. Some of the most popular wooden utility products are the spoon, cutting board, mug, tray, bowls, chopsticks, cabinet etc.
---
Wooden Decor Item Making
Wooden decor item has the enormous revenue potential. Additionally, you can establish a small scale wooden decor item manufacturing unit can with small startup capital. Some of the most popular wooden decor items are the wall hanging, photo frame, toys, sculpture, pen, plant pot, jewellery box and the list will go on.
---
---
If you plan to start your own business and want to more details about business strategy or need Business Analyst
Please contact at 
info@shishirkant.com

 or 

+91-8299371442 (Whatsapp)